Police Brutality in the World today
We are all aware that police brutality is something that happens all over the world. There is a problem with giving fellow humans authority because they tend to misuse it. Victims of police brutality in most cases are the lower class or the ethnic minority in the society. One would think police deaths occur as a result of racism. It isn't the case in Africa (especially Nigeria) countries where the population are predominantly black. It also proves that police violence is a result of the less privileged brutally oppressed without the fear of consequences. This piece aims to revisit every death related to police brutality and demand justice and compensation for the victims' family. 
We have combined these deaths over the years in Nigeria where we have high reports of police violence. As time goes we'll update more countries on the list and add new cases with the help of the people. The people need to realise that we are more powerful than any government or organisation when we come together. This is evident through the protests surrounding the call to #ENDSARS and the unjust death of George Floyd in the United States. These protests calling for police brutality to end have been held in many countries worldwide. Many murderers in uniform have escaped prosecution and the victims get little or no compensation at all.  In Nigeria we are yet to get justice for the young boy named Isiaq Jimoh, who was shot and killed during a peaceful protest. This website will shed light on the people that have lost their lives and hope to call for justice. The names of victims will be posted and updated daily. It is now up to us to use this vital information to demand for justice. Nobody deserves to die because his/her fellow man is intoxicated with power. For years we've been called evil, when in reality we have been dragged through hell. Power that is meant to protect and serve is being used to torture and kill instead. Use the hashtag #NoJusticeNoPeaceKnowJusticeKnowPeace #ReformNigerianPolice until laws are put in place to protect citizens against such violence. 
POLICE BRUTALITY IN NIGERIA
Nigeria-Police Force Order 237 gives police the right to kill suspects as long as they can prove the detainee tried to escape or resisted arrest. 
Section 33 of the 1999 constitution is massively flawed because it also enhances police brutality indirectly. 
Pictured below: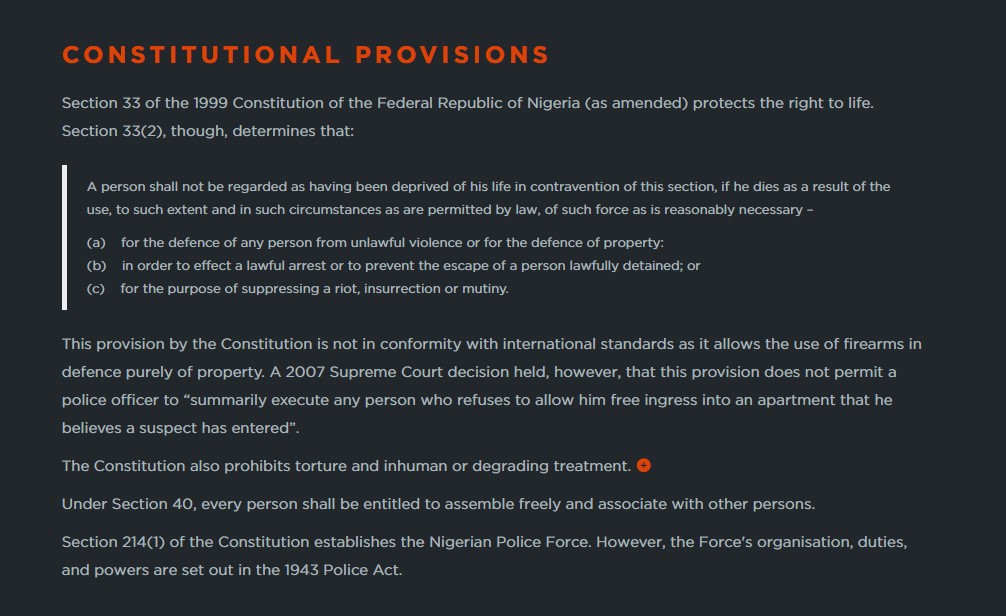 source- policinglaw.info
This enables policemen to kill citizens without fear of prosecution. Below are some of the victims of police brutality in Nigeria in recent years:
Tina Ezekwe-15 (killed by a stray bullet that was shot out of carelessness, refused treatment by a hospital because they had no police report. Hospitals refuse to treat gunshot wounds because the police have warned them not to. This leaves many lives lost without consideration and lack of urgent action).
Linda Igwetu

Tiamiyu Kazeem (Professional footballer killed because he was wrongly profiled as a fraudster for having dreadlocks).

Solomon Eze

Chukwuemeka Matthew Onovo- 22

Chibuike Anams -23

Christian Ugwuoke-

Aneke Okorie- (one police officer was dismissed and prosecuted; he is currently awaiting trial).

Joseph Onu

Ken Niweigha 

Femi Enyi 

Femi Bello

Christian Onuigbo -28

James Ute 

Uche Okoye (disappeared from police custody, policemen usually claim killed prisoners have been transferred to a different place, which is usually not the case).

Chika Ibeku -29

Gabriel Ejoor Owoicho -29

Precious Odua -27

Johnson Nnaemeka -39

Steven Agbanyim- 29

Chidi Odinauwa -26

China Ikwunado- (mechanic tortured and killed).

Kolade Johnson-

Rinji Bala

Azuamaka Victor Maduamago- 24

Boma Augustine Fingesi – (Falsely arrested on suspicion of kidnapping, house raided and cash stolen from his property, court ordered his release. Police denies he was ever in their possession, and claimed he had been bailed with no document to back his official release)

Emmanuel Egbo- 15-year-old (called while playing with his friends in the street and was shot then tagged an armed robber).

Michael Akpan- 21 commercial bus driver

Godgift Ferguson – 24

Ekerete Tony Oruama-21

Harry Ataria -26

Daniel Adewuyi Tella- 27

Eke Nwoseh- 17

Modebayo Awosika

Chinedu Ani- (According to witnesses, they annoyed a politician who threatened to deal with them. He lied to the police that they tried to rob him off his money, police found the men and shot them then tossed their bodies in the back of their van for hours).

Innocent Onovo – (The court rewarded Innocent Onovo's wife 10 million naira(US$64,900) in damages as compensation; a payment is yet to be made). 

Emeka Ugwoke- 17 Izuchukwu Ayogu -16 (Promised to pay 5 million (US$32,450) in damages to the two families, yet nothing has been paid so far).
SOURCE- AMNESTY INTERNATIONAL
The Nigerian government should make available technologies that will enhance investigation before court rulings. Most times, the policemen beat their suspects until they confess to committing the crime. This is a case of making the victim the criminal even without proper investigation. People that haven't committed crimes are sometimes forced to confess because they can barely stand the torture and confessing is the easy way out for them.  These confessions are presented in court as evidences which enhance court ruling against some innocent individuals. Only the lucky ones live through the torture or make it to the court room.  The unfortunate suspects sometimes die from the immense pain. There should be a new law that ensures people in need of emergency medical service (especially from gunshot wounds) are treated immediately. There should be no need for police report to be provided, this would mean, a victim's life is dependent on the perpetrator. There's no guarantee that the police will be eager to provide a report that would help their victim get quick treatment and survive to testify or press charges against them. 
We demand that the police are provided with body cam to regulate their actions while on duty. This will also enhance investigations whenever police brutality occurs. The government should also reduce and regulate the arms given to these officers, instead they should make provision for Tasers or other alternatives. The salaries of these police officers should be increased so they have a better living standard and not resort to extorting and harassing hardworking citizens.
N.B – If there are any names or personal cases, readers shouldn't hesitate to email us with the details. We will upload accordingly and seek for justice together. #NoJusticeNoPeace #KnowJusticeKnowPeace #ReformTheNigerianPolice